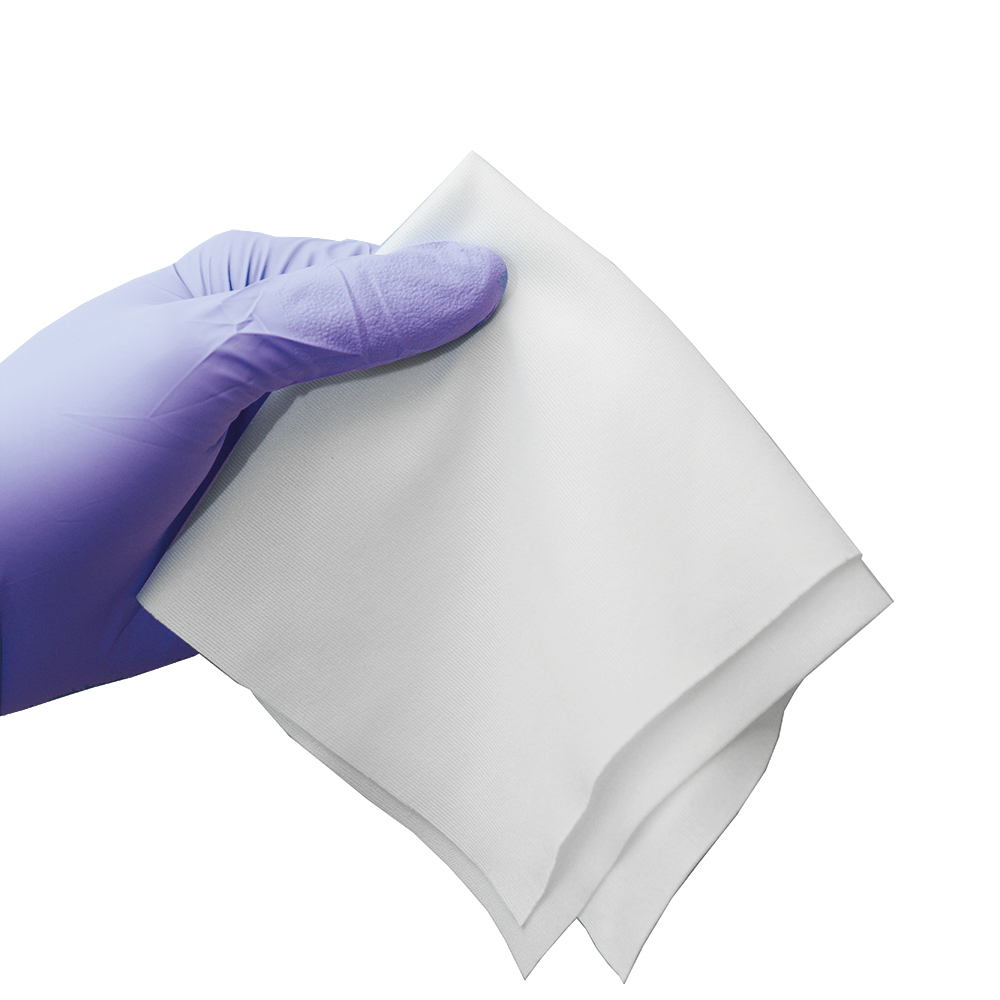 Effective control in minimising contamination within any cleanroom environment is critical. Various studies have shown that cleanroom wipes are one of the most important consumables in your critical environment.
Cleanroom wipes are the perfect tools for cleaning any surface in a cleanroom, including walls, machinery, fixtures, transport carts, or any other production materials. Cleanroom wipes have been developed to effectively remove contaminants, particles, and any residual material in critical manufacturing & controlled environments.
How do you choose the right cleanroom wipe?
The main factors to consider when comparing cleanroom wipes for suitability are:
Physical properties and characteristics
Edge treatment
Size
Weight
ESD wipes
ISO classification of cleanroom
Physical properties & characteristics
The wipes substrate is key to determine factors such as cleanliness, durability, water/solvent absorbency, heat resistance, chemical resistance, particle count and cost.
Pre-saturated wipes – pre-saturated wipes are an excellent solution for disinfection of surfaces within a cleanroom. One of the main advantages of using pre-saturated wipes is the convenience of not having to manually mix IPA / water. Each wipe contains the exact amount of IPA and DI water saving technicians time on mixing, spraying, or applying the correct amount of liquid to get the job done effectively. These wipes can also be supplied with WFI water. Technicians simply open the tub and pull out a pre-saturated wipe that is ready to be used. For applications where the exact amount of IPA is critical, then the wipe should be used instead of manually wetting a dry wipe.
Polyester wipes – double knitted or non-woven wipes are manufactured with a continuous filament, are low in particulates making polyester wipes the cleanest substrate. Polyester wipes are high in durability and strength and this substrate resists abrasion under rigorous use. Our low lint continuous polyester cleanroom wipes are commonly used for wiping sensitive surfaces, research work areas, or finished products and widely used in Class 10 (ISO 4) and Class 100 (ISO 5) cleanrooms. Can be Gamma Irradiated for sterility.
Non-woven wipes – polyester/cellulose wipes provide additional absorbency for spill clean-up and removal of thick liquids. Non-woven wipes are commonly used where liquid retention is important. These are one of the most popular cleanroom wipes for general wipe down and spill control in cleanrooms classified at ISO Class 5-6 and above. As well as being one of the most economical wipes, non-woven wipes are low-linting, strong, have chemical resistance properties and low levels of NVR (non-volatile residue).
Edge treatment
Wipe fabric is produced on large rolls and needs to be cut to size. The very action of cutting the fabric can produce unwanted particles so the edge treatments give multiple levels of cleanliness. Choosing the correct finish is critical as this will determine the right application. Wipes that are made from the same fabric, for example "Polyester" but have different edge treatments, can have multiple levels of cleanliness.
Laser Cut – these wipes are cut using a laser which also seals the edges using heat. The laser seal edge treatment is cleaner than the cold knife cut as the fiber ends are melted, leaving no residues behind. These wipes are ideal to clean sensitive surfaces, biosafety cabinets, fume hoods, and wipe off finished products, equipment and parts. These sealed edge wipes are suitable for ISO 3-4 (Class 1-10) and higher.