Innovative Cleanroom Solutions
Halyard Health are committed to being the strategic partner that helps to deliver care to build a better, healthier future for our world. They are focused on, and purpose-built, to help you take on today's healthcare complexities.
The Halyard PUREZERO* range of sterile and non-sterile nitrile gloves is specifically designed for cleanroom environments to address the needs of pharmaceutical, medical device, microelectronics and semiconductor manufacturing as well as laboratories, research environments, biotechnology and food processing/handling.
Halyard have manufactured cleanroom gloves for more than 20 years at their Safeskin glove manufacturing facility in Thailand, which holds ISO 9001 and ISO 13485 certifications. Quality and sterility assurance levels are guaranteed, with all raw materials and components traceable to their original supplier.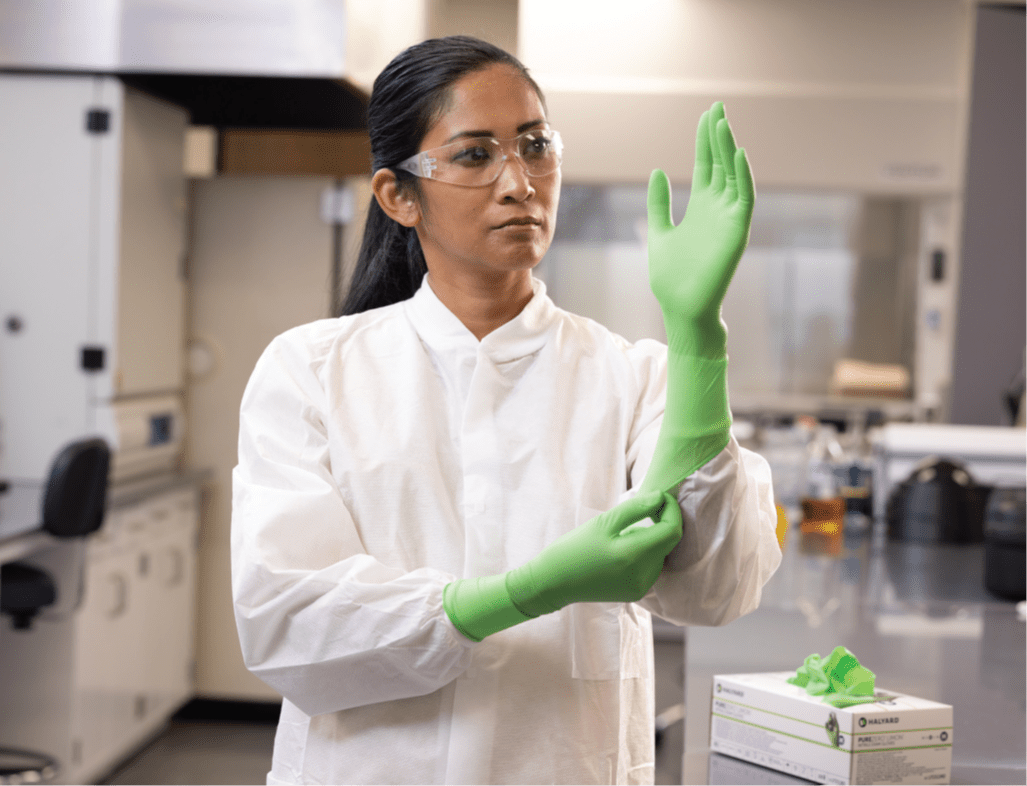 User Comfort and Protection
The accelerator-free formulation of PUREZERO* gloves reduces the risk of allergies and skin irritation associated with accelerator chemicals in other nitrile gloves. As a result, PUREZERO* gloves are comfortable to wear, allowing workers to focus on their delicate tasks rather than their gloves.
Halyard PUREZERO* Cleanroom Nitrile Gloves are specifically designed to protect workers with effective barrier protection against chemical splash, micro-organisms and contaminations.
Product Contamination
The consistent quality of PUREZERO* Cleanroom gloves ensures low particle and endotoxin levels.  HALYARD* PUREZERO* Cleanroom Gloves are manufactured and packaged at an ISO 9001 and ISO 13485 certified facility in state-of-the-art cleanrooms. They are recommended for ISO Class 4/5/6/7 and Grade A/B/C/D + aseptic cleanrooms or cleanzones. These gloves are clean processed (washed repeatedly in deionized water) to ensure consistent control of low particles, extractables and endotoxin levels.
PUREZERO* Cleanroom Nitrile Gloves
HG3
The PUREZERO* HG3 portfolio of three non-sterile and two sterile Cleanroom Nitrile Gloves are ideal for applications that involve handling delicate equipment in microelectronics, semiconductors, optics, pharmaceutical and medical device manufacturing applications. PUREZERO Cleanroom Gloves are tested against 29 chemicals and 14 Chemotherapy drugs.
HG5 Nitrile Cleanroom Gloves
The PUREZERO* HG5 portfolio consists of two non-sterile Cleanroom Nitrile Gloves are ideal for applications that involve handling delicate equipment in the Semiconductor, Electronics, Medical Device Manufacturing and Pharma applications.  In addition to providing a barrier to chemical splash, microorganisms and viruses, PUREZERO* HG5 Cleanroom Gloves are now tested against 2 chemotherapy drugs and 21 chemicals.
PUREZERO Life Science Nitrile Exam Gloves
The PUREZERO* portfolio of five Life Science Nitrile Exam Gloves offer three levels of protection for medical, industrial and laboratory use.  These gloves are tested against 57 chemicals, up to 14 chemotherapy drugs and Fentanyl**.
*HALYARD and PUREZERO are Trademarks of Owens & Minor, O&M Halyard or its affiliates.
**Excluding ULTRA VIOLET. ULTRA VIOLET Nitrile exam gloves are not tested against Fentanyl.