Integrity Cleanroom now stock the full range of high quality HALYARD* PUREZERO* Life Science Nitrile Exam Gloves. These gloves are specifically designed to meet the stringent requirements of contamination controlled environments.
Gloves play an important role in protecting your workers as well as your products and processes.  Lab workers can spend many hours a day dealing with a variety of chemicals, some with the potential to impact their health and wellbeing. Gloves that are specifically designed for Life Science applications should be worn at all times.   Rigorous testing, sustainability and reliability of supply are vital in today's market; Halyard PUREZERO* Life Science Nitrile Exam Gloves deliver on all three fronts.
Protection
Three levels of colour coded protection with increasing thickness
Tested against 57 chemicals and up to 14 chemotherapy drugs and Fentanyl**
Natural rubber latex free, for protection against contact allergies
Sustainability
Manufactured in facility using 92% renewable energy
PUREZERO Life Science Glove dispensers are made with up to 85% recycled materials, and case are made with up to 99% recycled pulp
Supply Reliability
Delivered through Halyard's vertically integrated global supply chain
20 years+ experience manufacturing nitrile exam gloves
Traceability of raw materials to their original source
Manufactured at Halyard's own Safeskin facility in Thailand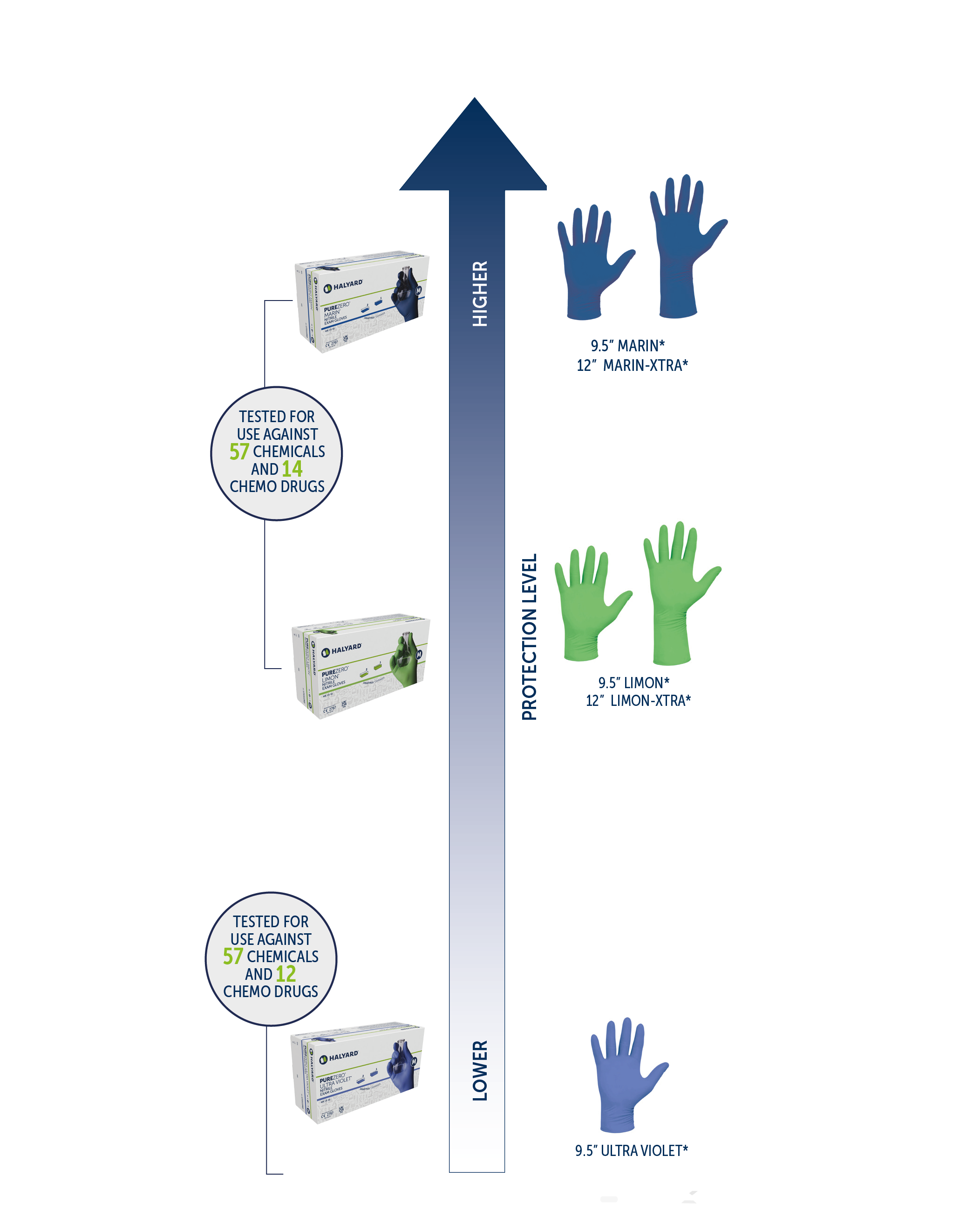 The PUREZERO* portfolio of five Life Science Nitrile Exam Gloves offer three levels of protection for medical, industrial and laboratory use.
*HALYARD and PUREZERO are Trademarks of Owens & Minor, O&M Halyard or its affiliates.
**Excluding ULTRA VIOLET.  ULTRA VIOLET Nitrile exam gloves are not tested against Fentanyl.